Riches stock market in india journey stock holdings and investment advice
Rakesh Jhunjhunwala , india's warren Buffet , or famously called the big bull, is no morew he ruled the india stock market for decades, marking  intelligent investment choices to build an empire of stock holding worth over  RS 40,000. He was india's 36th richest person, with a net worth crossing $4 billion.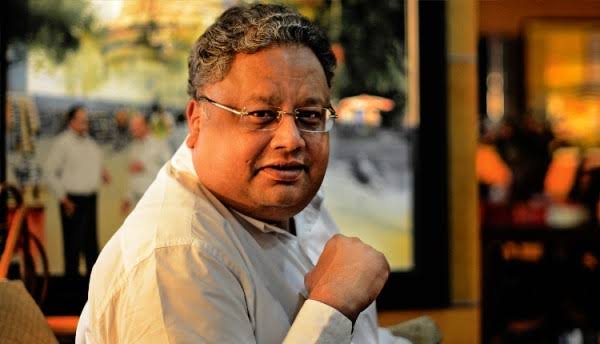 On the basis of information provided to the indian bourses (june 2022), Rakesh jhunjhunwala, who recently launched his own airline Akasa air has 32 company holding. Just like a witted investment veteran rekesh jhunjhunwala placed his eggs in different baskets and spred across his equity portfolio across various sectors. With a comparatively higher ownership of real estate and construction of 13% jhunjhunwala invested 6% in finance,6% in pharmaceuticals, 6% in banking , in construction and contracting ,3% in sectors like computers, software, infrastructure, footwear,auto packaging.
Rakesh Jhunjhunwala's first big profit was seen at (RS0.5 million) in 1986 when he bought  5,000 shares of TATA tea at RS43 and within 3 months a profit of over 3 times by selling the stocks of TATA tea. Then there was no looking back.
Jhunjhunwala's nevr gave up on his love for tata companies and its love for tata companies and its stocks, he held 1% each in TATA  Motors with shares worth 1731 cr and Tata communication valuing RS336cr.
Prepared for failure' : Rekesh Jhunjunwala reply when questioned on Akasa Air
Akasa Air was one of the business ventures of veteran  stock market investor Rakesh Jhunjhunwala who passed away on Sunday morning. The airline began commercial operations this month with a maiden flight from the financial capital of Mumbai to the city of Ahmedabad.
The Ace stock Market investor who is often referred to as india's own waren buffet was question on why he planned to start an airline when aviation was not doing well,to which he had replied, "I say I'm prepared fro failure.
Co-founding Akasa Air  was a rare departure into entrepreneurship for  Rakesh Jhunjhunwala, who made his  fortune on the stock exchange as a value share investor and is often compared to the Berkshire Hathaway Chairman and CEo.
After graduating from Sydenham College in 1985, he enrolled at the Institute of Chartered Accountants of India and married Rekha Jhunjunwala, who is also a stock market investor.
Jhunjhunwala ran a privately-owned stock trading firm called RARE Enterprises.
He was always bullish about India's stock market and whatever stocks he purchased mostly turned into a multibagger.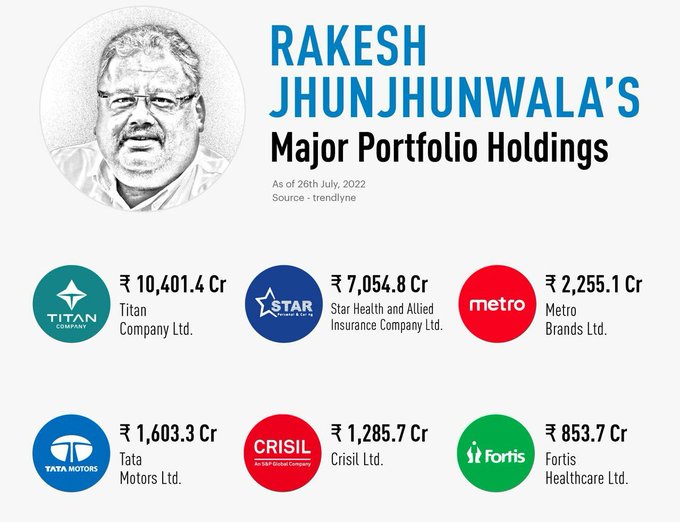 Titan Company shares are one of the multibagger stocks that Indian stock market has produced in last few years. This Tata group stock haws risen from around ₹1,835 to ₹2,500 levels in last one year, delivering near 35 per cent return to its shareholders. In last five years, this Rakesh Jhunjhunwala stock has surged from ₹625 to ₹2,500 apiece levels, logging near 300 per cent rise in this period, Titan Company share price has ascended from around ₹225 to ₹2,500 per share levels, logging around 1,000 per cent rise in this period.